Etsy
This guide will explain the Etsy integration settings within Order Desk.
These settings can be accessed by clicking on Etsy under the Integrations menu in the left sidebar of Order Desk once the Etsy integration has been enabled in your account.
Integration Setup
To begin, connect your Etsy account to Order Desk by clicking on Manage Integrations under the Integrations menu in the left sidebar.
Select Etsy from the Shopping Carts section and click Enable
Click Connect to Etsy and sign into your Etsy account. When prompted, authorize Order Desk to access your account and approve the connection by clicking Allow Access.
If your account has access to more than one shop, you'll be able to select which shop you want Order Desk to use.
Download Orders
Choose the frequency that orders are downloaded from the Check For New Orders dropdown.
If you'd prefer, you can also manually import orders. This option is on the right side of the settings page under Manually Import Orders.
When doing a manual import, Order Desk will download the 50 latest orders that are in open status. Orders that have already been imported will be ignored. Orders that are not paid and not in open status will not be downloaded.
Tip: If you run very high volume, please contact Order Desk support about raising this level for your store so you don't miss any orders.
Choose the folder where newly downloaded orders should be placed. New folders can be created from your Store Settings page.
Sync Shipment Information
Order Desk can tell Etsy when a tracking number is added to a shipment. This will also trigger an email to the customer from Etsy. To enable this, select Enabled for Sync Tracking Numbers.
If you add more than one tracking number to an order, the second number will not be synced to Etsy.
Etsy and Listing IDs
Update: In February 2017, Etsy released a new feature allowing merchants to create unique SKUs for their items and variations. Order Desk is already set up to bring in these new SKUs. Listing IDs will still work the same way if used instead of SKUs, but if a SKU is found, Order Desk will use this instead of the Listing ID.
Etsy does not have a field for a SKU value, so we use their Listing ID as the SKU for any downloaded order items. The Listing ID is a unique number that can be found in the URL of your Etsy item.
For more information on Etsy Listing IDs, visit their help guide on the topic.
How to Create SKUs for Variations
If you have variations on your Etsy products, you can enable the Append Variation Values to Item Code feature.
This will add the alphanumeric value of each variation to your listing ID to give you a unique SKU for each individual product combination. As an example, if you sell a product on Etsy with a Listing ID of 123456, and it has two variations: size (Small or Large) and color (Black or White), the item codes would come into Order Desk as:
123456-Small-Black
123456-Large-Black
123456-Small-White
123456-Large-White
Tip: Codes are case sensitive and alphanumeric, Pay attention to upper and lower case letters, and any symbols such as " (eg. 13") would be removed. The code for item 444555 with the variations LArge and 10 x 12" would be 444555-LArge-10x12.
How to Use Etsy's Variation Field as the Item Code
Within Etsy there is an option to add a SKU using the variation field on a listing. Order Desk can pull this SKU in and use it for the Item Code instead of using the Etsy Listing ID.
To add this SKU as a variant in Etsy, in the Variations section, click on Add a variation and choose Add a new property from the dropdown.
Write "SKU" into the Property Name field and click Continue. Enter your SKU into the Add an option field and click Add.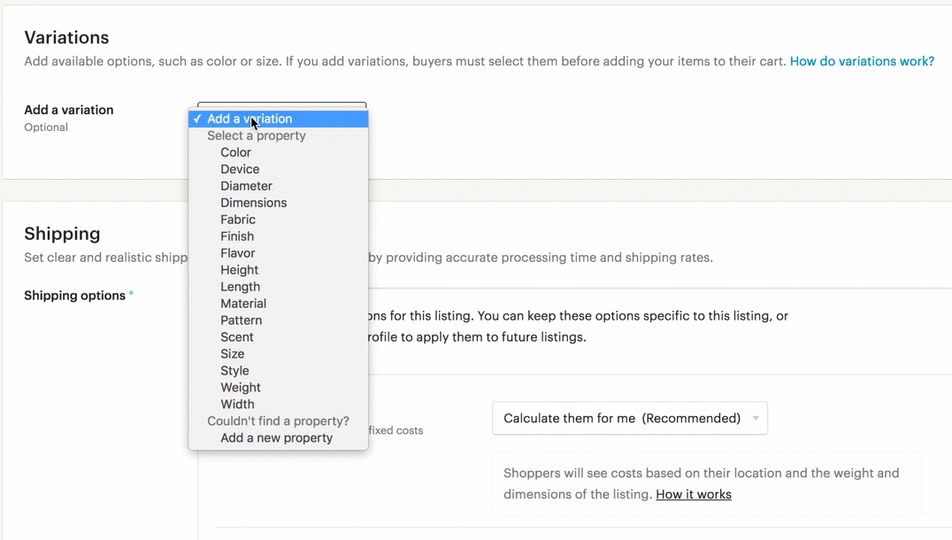 Your SKU will show up in the overview section of your item:
Back in Order Desk, enable the Use SKU Variation as Item Code option.
Tip: SKUs with the variations appended (like 123456-Small-Black) cannot be created for variation items using the same SKU. Because of this, only use this option on products that do not have variations.
Sync Inventory Details
Because we have to use the Listing ID as the SKU for any downloaded order items from Etsy, syncing inventory details for items sold in multiple carts requires a workaround within Order Desk. This workaround will replace the Listing ID from Etsy with the actual product SKU used in other carts in order to sync the inventory details between items.
To do this, click on Inventory Items under the Tools menu in the left sidebar.
If you already have your items added, click an item name to edit it. If you don't already have your items added, click on +Add New Item in the upper right corner of the screen to add individual items (or import a .csv file of your Etsy items.)
Fill out the necessary product info, if you haven't already, making sure to put the Etsy Listing ID in the Code/SKU field, and then click on Add a Metadata Field.
In the Metadata section, put code_replace in the Name field and the actual product SKU in the Value field:
Using code_replace will tell Order Desk that the item coming in from Etsy with a Listing ID should be synced with the inventory details of the item with the SKU.
Other Etsy Guides